BCNEX, a newly launched cryptocurrency trading platform, is once again announcing an exciting event for their community and future users to participate. This program is called "The Coin Voting – Round."
This event commences today until September 13, 2019, for the final verdict. The coin or token with the highest garnered voted will be listed at BCNEX platform.
BCNEX is ensuring that they are making smart strategies for their exchange and their community members. They want to include only the best possible crypto-currencies available for trading on their exchange. That's why this voting program is one activity to distinguished the best coin/token favored by the most.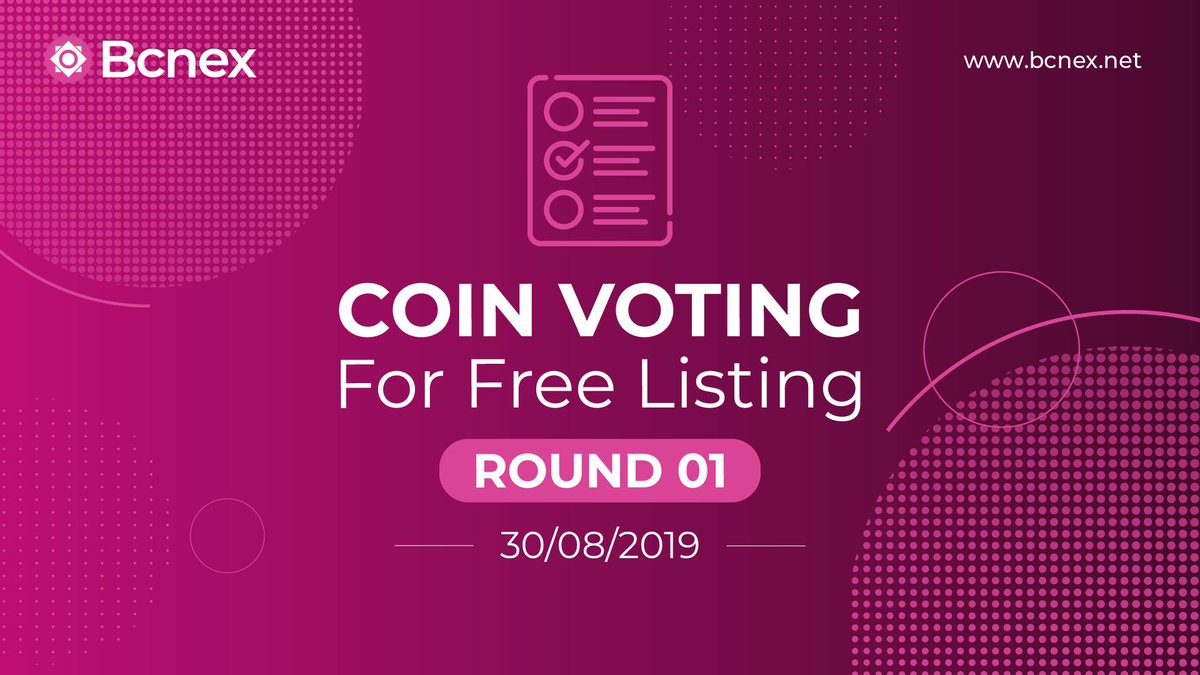 Available Coins/Tokens For Voting:
TEZOS
COSMOS
TOMOCHAIN
BEAM
GRIN
ONTOLOGY
RAVENCOIN
TRON
IOST
PUNDI X
ENJIN COIN
NEXO
CHAINLINK
MAKER
HARMONY
FANTOM
KYBER NETWORK
CYBERMILES
REALTRACT
HOLO
Voting Details:
– Voting Period: 30/08/2019 10:00 AM (GTM + 7) to 13/09/2019 10:00 AM (GTM +7)
– Voting Link: https://www.bcnex/vote.html
– All BCNEX account owners are qualified to participate in this voting event
– Each registered user can vote for more than one candidate and will only be able to submit their full vote once.
– There is NO voting fee to participate.
– At the end of the voting period, BCNEX team will review and announce the name of the coin with the highest votes.
After the voting period is over and the winner has been declared, BCNEX will list the coin in their exchange within a reasonable time frame. Depending on the market's response, they will strive to make this activity as a monthly event for their community.
What Is Bcnex?
Bcnex is known as the ultimate blockchain trading platform where users can purchase, trade, and exchange blockchain-based tokens as well as several digital assets. It is developed on a microservices architecture that ensures that the platform is fast, accurate, and has flexible scalability with the ability to handle more than 2,000,000 orders per second.
The user-centric exchange market is a product of trading specialists and developers with broad experience in automating distribution, enhancing access to the financial market, and designing web applications. The team has also been actively engaging in the crypto community for years, consequently positioning the exchange to become a global leader and offer global access to cryptocurrencies.
How does Bcnex work?
Bcnex is integrated with Bcnex Order Matching System (BCOMS) that is accountable for coordinating the buy and sell orders placed on the exchange. Once the orders are placed, they are stored in high-performing queues that are designed to ensure data integrity and prevent loss of orders. The system has flexible scalability and low latency, which eliminate overloaded systems, and clogged orders issues. As the outcome, this makes Bcnex as one of the fastest exchanges of today.
Additionally, Bcnex highlights system security that is used across multiple layers. If any unusual activity is identified, the account is blocked for a set period, and the account owner is informed of the activity. KYC procedures are also carried out before any transaction is administered.
To know more about this exciting cryptocurrency exchange platform, follow their official social media pages:
Facebook: https://www.facebook.com/bcnex.net
Twitter: https://twitter.com/bcnex_net
Telegram: https://t.me/Bcnex_Official
The emergence of cryptocurrency has made a huge impact on technology, economy, and society. Since Satoshi's bitcoin phenomena, the entire world was shaken with this new approach that has evolved the financial market. It has become a new trend in the world of investment for real fair reasons. People who invested in cryptocurrency benefitted in so many incredible ways. But without a stable crypto exchange, all of these are not achievable. That is why, BCNex, a Vietnam based blockchain trading platform, is built to accommodate and satisfy every user's need in terms of security and reliability.
Why Choose BCNex?
Secure
Bcnex is designed on the most advanced microservices architecture that is intended to observe all the customer requirements initiating the platform to be highly reliable and stable.
High liquidity levels
Bcnex highlights multiple sources of liquidity that ensures all the transactions on the platform are administered without any delays. Additionally, due to the diverse liquidity sources, traders will not need the services of multiple intermediaries who charge excessive prices.
User-friendly
This trading platform prioritizes the provisions of high-quality services to its customers through its user-friendly interface. It ensures users access the best trading experiences either through the desktop or mobile application.
Multiple cryptocurrencies
Bcnex is compatible with a broad range of cryptocurrencies and tokens such as BTC, ETH, USDT, and BCNX. More coins will be added soon after they are vetted. Additionally, the platform also supports several fiat currencies like USD, CHF, JPY, and many more.
Dedicated customer support team
The Bcnex trading platform has a dedicated customer support team available 24/7, to serve users with any questions they might have regarding the platform. It gives users with a flawless user experience combined with a stable and intuitive trading environment.
Possessing The Most Advanced System Architecture
Bcnex features a robust micro-services architecture in which thousands of bots are continuously processing hundreds of orders per second that makes it faster than 99% of other crypto exchanges.
An order matching system manages overloaded systems and backed-up transactions for buy and sell orders stored in high-performance queues. Physical servers are added immediately to secure scalability at moments of high demand. It is achieved without compromising the stability and access speeds.
BCNex is also directed from the ground up in its goal to accomplish "banking industry level auditing and security compliance" from a security perspective. Strong firewalls and anti-denial of service tools are supplemented with user alerts whenever unusual activity found on an account. Also, 98% of Bcnex's digital assets are stored in various cold wallets detached from the internet, which means that they are resistant to malicious attacks.
Highlighting One Of Its Kind Features
Bcnex is innovating the crypto exchange industry with its exceptional features such as margin trading, spot transactions, future contracts, and a 100% anonymous automatic order matching mechanism. BCNX will be used to buy and sell cryptocurrencies, as well as cover transaction charges. A "careful review process" is implemented to guarantee that only trusted tokens with strong liquidity and a large user base will join its platform.
Users can access Bcnex on the web, on Windows PCs and by uniquely created apps for Android and iOS, depending on their preference. The exchange is going to launch in English and Vietnamese, with support for Chinese, Korean, and Japanese set to support as the exchange aims to become multilingual.
At the end of this year, BCNex is progressing to explore the prospect of designing an ecosystem to support blockchain-based startups. Then, in the first quarter of 2020, the Bcnex team is intending to start margin trading after a testing period.
"To date, the crypto market is still limited and difficult to enter. We strongly believe that more people should be able to participate in this exciting and promising digital economy," the BCNex team affirmed, empowered to democratizing cryptocurrency trading.
To know more about BCNex latest news and updates, visit their official website and social media pages:
Website: https://www.bcnex.net
Facebook: https://www.facebook.com/bcnex.net
Twitter: https://twitter.com/bcnex_net
Telegram: https://t.me/Bcnex_Official
Linkedin: https://www.linkedin.com/company/bcnexholdings
Medium: https://medium.com/@bcnex
Bitointalk: https://bitcointalk.org/index.php?topic=5111223.0