Blockchain's primary role in a decentralized application setting is to manage data securely and consistently. Thus, a blockchain can be interpreted as a database, to be more specific, as a secure decentralized database. Most blockchain platforms nowadays employ key-value data stores like Ethereum and NEO. It enables the use of high-performance data stores such as LevelDB, but this model is very low-level and needs application developers to execute core functionality like serialization and indexing, which is a daunting challenge. That's why Chromia, formerly known as Chromapolis, aims to solve the shortcomings of existing platforms and created to facilitate a new generation of dapps to scale exceeding what is currently achievable.
What is Chromia?
Chromia is recognized as a new blockchain platform for decentralized applications that offers the same level of transparency, openness, and decentralization as other public blockchains. It is a general-purpose platform which is suitable for nearly all kinds of dapps. It is uniquely well suited to cases requiring high I/O capacity or concerning the management of complex data sets.
Technical Design And Features
Chromia team believes that a blockchain works the role of a shared database within a decentralized application ecosystem: it collects application data and makes certain that data additions, updates, and transformations are authorized and consistent with the application's rules. For this reason, Chromia is created and optimized to serve the role of a shared database in the best means possible. It is performed using the existing Postchain framework produced by ChromaWay.
Relational model :
Blockchain data and application environment are stored in a relational database. It is considered to be best in class in terms of flexibility, versatility, and consistency.
Relational programming language:
Chromia dapp backends are written in a specialized language which is deeply integrated with the relational model. It progresses programmer productivity and guarantees application consistency.
Horizontal scaling:
Dapp has its own blockchain(s), and a subset of nodes operates blockchain, it is possible to increase total throughput by extending the number of nodes.
Rich indexing and querying:
Dapps can promptly retrieve the information they need directly from nodes operating the application.
High I/O throughput:
Data queries and updates are committed to a heavily optimized a relational database, enabling dapps to do a large number of queries and data update processes.
PBFT -style consensus:
Transactions can be validated within seconds.
First-class dapps:
Dapps do not arise from "smart contracts" in Chromia, but are considered first-class entities. It provides dapp developers with a high degree of flexibility and administration.
Dapp level provisioning:
Allocating resources to dapps rather than contracts provide developers the freedom to build their own fee and resource use systems.
The CHR Token
Chromia's intrinsic token called CHR is used as the central unit of exchange across the platform, and dApp owners/providers are required to receive compensation by operating nodes offered on its marketplace.
It is also used to power the ecosystem and by dApps to pay hosting charges and to peg dApp tokens. Also, nodes running the Chromia system will be compensated with a share of the dApp hosting fees.
When a user wants to purchase app tokens, an algorithm generates the tokens while also locking up the CHR tokens and adjusting the price and a fee may be implemented during the conversion. It helps to generate token usage as users buy the tokens of new apps and games that become popular.
The Core Team
The team is comprised of seasoned practitioners who have strong academic and professional backgrounds. As an addition to being technically proficient, there are also members with a solid base in marketing and business advancement which gives the team a good balance and strong capacity to influence the world of commercial technology in different ways.
Henrik Hjelte (Co-Founder)– He possesses an MSc Economics from Uppsala University, and serves as the CEO of ChromaWay. He has superior 25 years of experience as a developer and ten years as an entrepreneur. He was also the founder of internet company Stix, and an ex-senior consultant in the Finance and IT fields.
Or Perelman (Co-Founder) – Earned his Law (LLB) degree from College of Netanya and acts as COO at ChromaWay. He was also a co-founder of Safebit, a user-friendly Bitcoin wallet, and holds extensive blockchain marketing experience and contacts.
Alex Mizrahi (Co-Founder) – He completed an MSc in applied mathematics from Donetsk National University and worked as CTO at ChromaWay. Alex developed original colored-coins in partnership with LHV Bank in 2012. It acts as the basis to the Cuber app that enables the sharing of money from different accounts without the necessity to be part of the same entity or bank.
Chromia's Latest Development
Chromia has conducted its Initial Exchange Offering (IEO) at KuCoin cryptocurrency trading platform last May 28, 2019. The token sales was a success that's why in celebration to this, they will launch a listing campaign to give away a reward pool of 500,000 CHR to qualified KuCoin users. This campaign will start from 00:00:00 on May 31, 2019, to 23:59:59 on June 07, 2019 (UTC +8).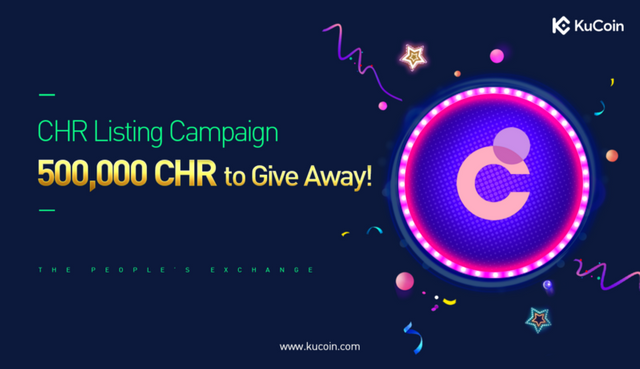 Chromia Official Pages
Twitter
Linkedin
Telegram
Facebook
Facebook
Youtube
Telegram