The modern era started a compelling, broad, and imagination-inspiring time where people's experiences and reality is extended by means of merging the physical and virtual world. It fulfills to an advanced technology called Extended Reality (XR). It incorporates Virtual Reality, Augmented Reality and newly-developed immersive technologies, combines and engages users at more profound, more meaningful levels. It creates wholly new ways for people to experience the world around them. But how can users fully benefit to this innovation?
XR Web is pioneering the development of this augmented reality layer of the internet and is creating the central platform tools and foundation. The XR Web is developed on a blockchain to have security and trust as core principles of this new platform focusing on the use of Extended Reality (XR).
How XR Web Works
XR Web operates by enabling anyone to build XR Apps on the network utilizing the extensive collection of development tools available on XR Development Suite. Content Creators also develop content for consumers to consume. The charges generated from the use of the platform/network is therefore distributed amongst network participants and XR stakers. XR Web enables users to buy and lease lands on the XR digital space and command real economic advantages from it.
1. Developers create XR apps on XR network using our suite of development tools, allowing them to publish either on web or mobile or both.
2. XR apps are communicated broadly into the community for active users.
3. Transactions happen on XR Web utilizing the XR token which is recorded in XR Network by geolocation.
4. Holders stake XR tokens on XR Web qualifying them to receive XR tokens from different sources based on their holdings and staked amounts.
XR Web Application Types
Location-Aware
XR Web enables developers to build geolocation powered applications extending personalized experiences to users based on collected information on their location. Such apps incorporate but not restricted to Games, Social Medias, Advertising network, etc.
Applying Cryptocurrency
Applications utilizing cryptocurrency to power their digital economy can is possible to develop inside the XR Web network. The cryptocurrency could be applied for staking, purchase of digital assets with real-world values, payment for services, etc.
Using AR/VR
By theory, XR apps can be used without AR/VR but XR Web considers most future apps should be in AR/VR. Virtual Reality/Augmented Reality can be created on the top XR Web to offer ultra-secure and loaded engaging experience to users. Apps such as Games, Shopping/Retailing Apps, Real Estate apps can be built on XR Web.
Possible XR Apps That Can Be Built On XR Web Network
XR Social Media
Extended reality (XR) is already influencing social media and has impacted for several years. AR is taking over the most widely used social networks in the world such as Facebook, Instagram, and new AR technology is created all the time. Additionally, these top social networks are very much helping people to not only utilize their AR features, but even to design their own AR experiences by providing the tools they necessitate to build AR camera lenses and effects. Brands, too, are starting to use this technology more and more, but the most significant innovations will likely come when all XR experiences are available in one platform.
XR Home Sharing
Home owners can set part or whole of their homes or other resources for rent. Rental period can be hold any period home-owners require and the incomes can again be shared with several stakeholders that includes property owner, operator, network operator, insurance, etc
XR Deliveries (Food & Others)
XR Web network can be worked to safely and securely transport food and other products from one point to the other.
XR Games
Interactive and immersive gaming is revolutionizing how gamers play/consume entertainment contents. With XR Web, users can traverse both visual, augmented or mixed reality content playing, get drawn into a new reality and experiencing new levels of interactive and entertaining actions.
XR Shopping
The capacity to virtually project oneself into a virtual world with superimposed products on the physical spaces, peruse within a broad list of products, working them out to see how they work out and buy from anyplace is revolutionary game evolving and it is poised to provide a new meaning and experience to shopping.
XR Location based Advertising network
By employing the XR Web technology, app developers can develop apps that are customized and user focused to give advertisement accurately while relishing immersive and interactive on multiple locations.
Personal Mobility / XR Ridesharing & Carsharing
XR Web technology advances the ability for users to experience unique and distinct ride sharing experiences and car sharing activities. Rides can be shared between the car owner, driver, rider, insurance companies and other stakeholders while sustaining a blockchain ledger of proof of the location of all assets.
XR Real Estate
Real Estate is ever in demand as people will prefer to get a property. Though, the achievements of any estate agent or developers extends in their innovation in promoting products and enticing clients. With XR Web technology, Real Estate developers can support potential customers and tenants to inspect properties without having to be physically present.
The applications above are just samples of potential applications that can be built using XR Web platform. They can be created by different companies which can be connected or not associated with XR Web's legal entity. The creators of the applications will have options on how much of the network charges and transaction fees. For transaction fees, the makers of the app can choose how much they want to deal with XR Web stakers, with a point of 0.5%. Higher sharing will accommodate to build a higher following to XR Web users and such market dynamics should end in a sharing arrangement that works for both application developers and XR Web.
XR Web Ecosystem Security
XR Web are aware of the fact that alongside new technology is accompanied by risks. Inside XR Web's platform is sufficient standards put in place to resist threats at the network or application level or both by continuous auditing of network and application layer, internally and externally for security concerns. Also, evaluation of Applications to be started on the XR Web Network.
Conclusion
XR Web Network's intention to revolutionize the use of extended reality (XR) is not just a promising proposal, but a possibility that can lead to significant and extraordinary achievements using the future apps built on their platform. Their whole system architecture, stability, and security utilizing blockchain technology are enough certainty on what it can bring to every industry and consumer, innovating products and services, making processes easier and accessible.
To know more about this project, visit their site at http://xrweb.networkor you can follow their official social media pages below:
BUY XR tokens now with 30% Bonus at https://www.ico.xrweb.network
XR Web is a decentralized network protocol that converts physical space into a secured and encrypted three-dimensional internet space where content and applications can be projected, displayed and transacted. We are building the core infrastructure and SDK upon which various dapps can be built including
XR Web is also part of Google Startups Surge Program and Nvidia Inception program. They were also part of DMZ Zone Accelerator in Toronto, Canada — largest startup Accelerator in Canada.
XR Gaming,
XR Social Media,
XR Real estate,
XR Advertising,
XR Ride sharing,
XR Home-sharing,
XR Retail
XR Insurance
And many others, etc
XR Tokens MainNet is already live. XR holders can stake their XRs again geolocation on XR Web Staking platform https://www.blockchain.xrweb.network. After staking, XR Stakers will get rewards every week based on activities on the XR Web after ICO / IEO is over.
Special Investment offer for Community before official IEO / ICO sales
30% Bonus on investment in XR Tokens.
Buy with ETH, BTC or Debit Cards at
http://ico.xrweb.network/sign_up.html?referralCode=ZWY5ZjcwZjk3YjI3NmIyNmIyOTQxZDYzMzEwYWVkOGY=
Or Email at ico@xrweb.network for Wire Transfer or PayPal.
XR Tokens will be tradeable against BTC, ETH and USDT in several major exchanges around the world after ICO/IEO. Legal Opinion is already available that XR token is a utility token and not a security.
XR Tokens MainNet is already live. XR Tokens are used for:
1) Accessing XR apps 
2) Staking & Reward share on XR Web (PoGS)
XR Staking by PoGS (Proof of GeoStaking) Method
XR holders can stake their XRs against geolocation on XR Web Staking platform by first come first serve basis at www.blockchain.xrweb.network . After staking, XR Stakers they will get rewards every week based on activities on the XR Web after ICO / IEO is over. Tutorial on Staking on XR Web as per
ETH Account less than 5000 XR — Rewarded pro-rate for activities within 25 miles of stake
ETH Account more than 5000 XR — Rewarded pro-rate for activities from activities anywhere on network
Tutorial for XR Staking. This video was on TestNet but have now moved to MainNet. Same Steps are applicable:
More links :
ICO Bench: https://icobench.com/ico/xr-web
Telegram: @gofindxr
Email: ico@xrweb.network
Website: https://www.xrweb.network
Investment Portal: https://www.ico.xrweb.network
ICO Bench: https://icobench.com/ico/xr-web
Wechat:
XR Web formerly known as GofindXR is a decentralized extended reality (XR) platform and virtual world on top of the real world which is powered by the Ethereum blockchain and InterPlanetary File System (IPFS). Compared to other digital worlds based on virtual reality (VR), digital content is loaded on top of the real world in AR, utilizing a smartphone or smart glasses. It will permit users to continue being connected to the real world and other people around them, while continuously encountering virtual content.
This project has its own economy and virtual currency called the XR Token. It is utilized to register land and secure transactions on the XR Web. Several applications that includes social media, games and shopping can be developed on this new XR Land as it it the new 3D Internet. Using the XR tokens, investors and users can stake them to a specific geographical locations and receive a revenue share from ads or transactions in the applications from transaction charges and applications.
The Key Components Of XR Ecosystem
XR Browser
It is the camera-based mobile spatial browser that will allow users to see the XR web directly. This element will enable users to experience internet surfing in XR mode on the go on both iOS and Android phones. The demo versions of this are now available. Conclusively the browser will transition for smart glasses as they become regular place.
XR Web
It is the collection of the geolocations and connected assets and applications. Components of the XR Land can be rented by users by staking XR tokens. All critical transaction in the XR Land such as Land ownership is registered on the blockchain.
XR Token
This is the cryptographic currency that is utilized in Gofind's XR Land for leasing XR Land and many other transactions.
XR DNS
It is the standardized system of URLs directing to exact locations in the XR Web from a distant location than the location in reference. It can be reached by compatible XR browsers using the prefix 'xtpps://'.
XR Lens Store & SDK
Lenses are comparable to web apps in 2D internet. Lenses are built utilizing the free SDKs in Unity and Javascript.
XR Ads Engine
It is a self-serve platform for marketers to set ads on XR world and for developers and builders to make their share of revenue. This XR part allows users to view ads in virtual reality as well as XR Web. The Ad engine will be accessible to serve ads in XR Land as well as in other AR applications outside the XR Land. Advertisers will be capable to bid on ads based off of location, demographics, dates and budget. Ads of highest bidder is promoted until spend operates out followed by the next highest bid.
How XR Web Works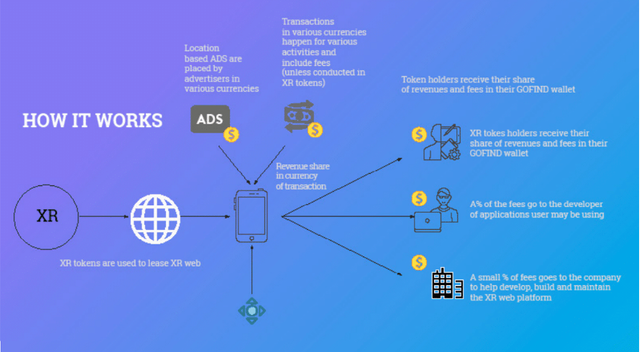 Mobile App XR Browser Screenshot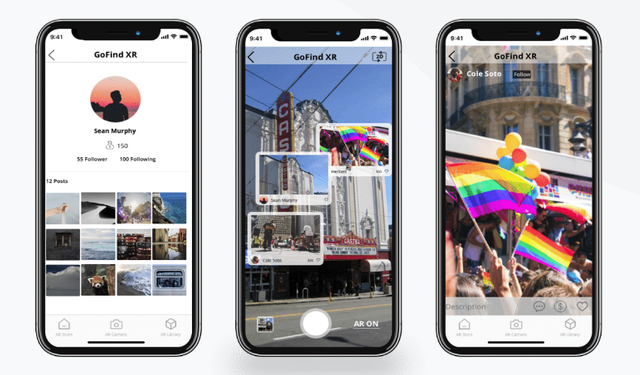 Potenial Use And Applications Using XR
For Games
The Niantic's Pokemon has previously illustrated how compelling AR gaming can be. The blast of AR Gaming is coming up. The team are making the Library store and Economy for AR Gaming advance.
For Shopping
A virtual makeover is creating tides in the beauty industry; the motor trade is becoming involved too. With Land Rover providing the keys to customers in order to 'drive' their SUVs by clicking on a banner ad; IKEA's AR solution created using Apple's AR development platform ARKit allows consumers use an app to place any of the company's 2,000 products in its catalogue to-scale, in a room in their home, via the camera on their phone; and only Gap announced 'Dressing Room.'
For Social Media
Extended reality (XR) is already hitting social media and its made so for years now. It looks like AR is taking over the most popular social networks in the globally including Facebook, Instagram, Snapchat, and this new AR technology is introduced all the time. Plus, these topmost social networks are very much inspiring people to not only apply their AR features as much as possible, but even to build their own AR experiences by supplying the tools they need to make AR camera lenses and effects.
The XR Web Team
The team is composed of skilled individuals from arrays of field. They are led by Manindra Majumdar, XR Web Founder and CEO and has worked in international business for over 7 years in 15+ countries. He earned his MBA from the Hult International Business School (San Francisco, USA) and is a known AI, AR & Blockchain expert.
Other distinguished members are Sanjay Chaudhuri as the Chief Technology Officer, Haw Leng as the Chief Growth Officer, and Bogdan Sizov positioning as the Director of Blockchain.
XR Web Official Social Media Pages
TELEGRAM
TWITTER
FACEBOOK
YOUTUBE