Blockchain's primary role in a decentralized application setting is to manage data securely and consistently. Thus, a blockchain can be interpreted as a database, to be more specific, as a secure decentralized database. Most blockchain platforms nowadays employ key-value data stores like Ethereum and NEO. It enables the use of high-performance data stores such as LevelDB, but this model is very low-level and needs application developers to execute core functionality like serialization and indexing, which is a daunting challenge. That's why Chromia, formerly known as Chromapolis, aims to solve the shortcomings of existing platforms and created to facilitate a new generation of dapps to scale exceeding what is currently achievable.
What is Chromia?
Chromia is recognized as a new blockchain platform for decentralized applications that offers the same level of transparency, openness, and decentralization as other public blockchains. It is a general-purpose platform which is suitable for nearly all kinds of dapps. It is uniquely well suited to cases requiring high I/O capacity or concerning the management of complex data sets.
Technical Design And Features
Chromia team believes that a blockchain works the role of a shared database within a decentralized application ecosystem: it collects application data and makes certain that data additions, updates, and transformations are authorized and consistent with the application's rules. For this reason, Chromia is created and optimized to serve the role of a shared database in the best means possible. It is performed using the existing Postchain framework produced by ChromaWay.
Relational model :
Blockchain data and application environment are stored in a relational database. It is considered to be best in class in terms of flexibility, versatility, and consistency.
Relational programming language:
Chromia dapp backends are written in a specialized language which is deeply integrated with the relational model. It progresses programmer productivity and guarantees application consistency.
Horizontal scaling:
Dapp has its own blockchain(s), and a subset of nodes operates blockchain, it is possible to increase total throughput by extending the number of nodes.
Rich indexing and querying:
Dapps can promptly retrieve the information they need directly from nodes operating the application.
High I/O throughput:
Data queries and updates are committed to a heavily optimized a relational database, enabling dapps to do a large number of queries and data update processes.
PBFT -style consensus:
Transactions can be validated within seconds.
First-class dapps:
Dapps do not arise from "smart contracts" in Chromia, but are considered first-class entities. It provides dapp developers with a high degree of flexibility and administration.
Dapp level provisioning:
Allocating resources to dapps rather than contracts provide developers the freedom to build their own fee and resource use systems.
The CHR Token
Chromia's intrinsic token called CHR is used as the central unit of exchange across the platform, and dApp owners/providers are required to receive compensation by operating nodes offered on its marketplace.
It is also used to power the ecosystem and by dApps to pay hosting charges and to peg dApp tokens. Also, nodes running the Chromia system will be compensated with a share of the dApp hosting fees.
When a user wants to purchase app tokens, an algorithm generates the tokens while also locking up the CHR tokens and adjusting the price and a fee may be implemented during the conversion. It helps to generate token usage as users buy the tokens of new apps and games that become popular.
The Core Team
The team is comprised of seasoned practitioners who have strong academic and professional backgrounds. As an addition to being technically proficient, there are also members with a solid base in marketing and business advancement which gives the team a good balance and strong capacity to influence the world of commercial technology in different ways.
Henrik Hjelte (Co-Founder)– He possesses an MSc Economics from Uppsala University, and serves as the CEO of ChromaWay. He has superior 25 years of experience as a developer and ten years as an entrepreneur. He was also the founder of internet company Stix, and an ex-senior consultant in the Finance and IT fields.
Or Perelman (Co-Founder) – Earned his Law (LLB) degree from College of Netanya and acts as COO at ChromaWay. He was also a co-founder of Safebit, a user-friendly Bitcoin wallet, and holds extensive blockchain marketing experience and contacts.
Alex Mizrahi (Co-Founder) – He completed an MSc in applied mathematics from Donetsk National University and worked as CTO at ChromaWay. Alex developed original colored-coins in partnership with LHV Bank in 2012. It acts as the basis to the Cuber app that enables the sharing of money from different accounts without the necessity to be part of the same entity or bank.
Chromia's Latest Development
Chromia has conducted its Initial Exchange Offering (IEO) at KuCoin cryptocurrency trading platform last May 28, 2019. The token sales was a success that's why in celebration to this, they will launch a listing campaign to give away a reward pool of 500,000 CHR to qualified KuCoin users. This campaign will start from 00:00:00 on May 31, 2019, to 23:59:59 on June 07, 2019 (UTC +8).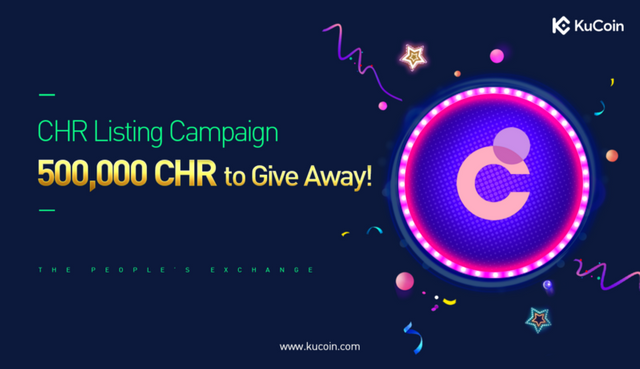 Chromia Official Pages
Twitter
Linkedin
Telegram
Facebook
Facebook
Youtube
Telegram
Distributed Credit Chain [DCC] is a blockchain venture that plans to change the budgetary space utilizing its stage to change circulated credit announcing, obligation enlistment, riches administration, and resource exchanges.
DCC is will make a decentralization framework for providers of monetary administrations all through the world. By growing the capacities of blockchain innovation and bringing back the information privileges of people, the MISSION-dispersed credit chain should change the different money related situations and execute genuine financing.
As the worlds initially distributed managing an account open anchor with an objective to set up a decentralized biological system for monetary specialist co-ops around the globe has arrived. The customary budgetary industry is exceedingly brought together. With considerable exchange charges paid out to expansive budgetary foundations, monetary exchanges depend vigorously on the underwriting and support of these establishments. Actually, loaning rates for borrowers are raised while decreasing the intrigue wage for banks by the monopolistic money related organization. Now and again making it unthinkable for moneylenders to precisely recognize the hazard, the middle people have even contorted the FICO assessment of borrowers for their own advantage.
This imposing business model has broken by the general population chains for dispersed saving money in light of blockchain innovation. DCC can for all intents and purposes abrogate exchange expenses and commissions as the principal at any point conveyed blockchain budgetary administration stage. It can give anchor and helpful administration that is moderate for conventional money related establishments. Every single monetary administration firms have rise to status on DCC's open chain. There are not any more a monopolistic rare sorts of people who "control the entirety". The estimation of the DCC originates from the money related exercises and exchanges of every one of its individuals. The DCC computerized cash will have a more solid establishment because of expanding quantities of money related exchanges which are finished by means of DCC. With the stream of substantial wholes of money related capital, at show financial tasks go as an inseparable unit. This presents to DCC an expansive scope of potential business applications and priceless potential.
This is the start of the commercialization of blockchain innovation. DCC can turn into a fantastic advanced resource which merits clutching in the long haul with their immense market request and by disposing of the key shortcoming of conventional computerized monetary standards.
DCC Platform Features
Client Account Identification System
To make an address every individual or foundation has one DCCID produced through Public-Private Key Pair in DCC. This is much the same as a part ID in a customary web framework which recognizes and relates different certifiable qualities and data on the credit chain. DCCID is a decentralized record framework, and its age does not rely upon any individual DCC hub. Any individual, association, or organization can produce this DCCID disconnected. To completely ensure the non-renouncement of an individual chain, DCC utilizes advanced mark innovation at each progression of information trade.
An open source individual credit information administration structure which is called Distributed Credit Data Management Framework will be given by DCC and it is upheld by a particular distributed storage supplier and engineers. This can rapidly reconstruct clients' close to home credit revealing information utilizing DCDMF in light of their APP advancement needs. By trading the wallet addresses, clients having a DCCID can trade information in a few APPs which utilize DCDMF.
Circulated credit information administration system or DCDMF is given by DCC. DCDMF use to remake clients information report. Clients can take information whenever they need utilizing their client ID and secret word.
Distributed credit support
Clients have the specialist of information by means of Distributed Identity Verification (DIV) and can decide the substance.
In this DIV procedure, there is no outsider association so the information specifically goes to the client from information establishment.
Conveyed Credit chain ensures information produced in the blockchain is precise.
Personal information go to the information foundation
Data process by the foundation will get information report
Data report will spare by people locally or in intrigue stockpiling
Apply report for confirmation
Finally the affirmation
Information spillage is least amid the procedure. Since information just old fashioned just amongst people and information organizations.
On the other hand, information reports can utilize again by information foundation. DIV make ready to utilize information benefits by enormous information organizations and AI-based organizations.
Utilization of Distributed Credit chain arrange
Loan enrollment
Loan utilizations
Blockchain Mastercards
Token credit benefit
Mortgage guarantee benefit
Assets dissemination
Problems Distributed Credit Chain will Solve
Most importantly, the foundation of the DCC expects to take out centralization and imposing business model. In this framework, every loan specialist will have the capacity to pick a borrower in a decentralized market with awesome rivalry. Estimating approach will be managed straightforwardly by the market, not by middle people and theorists. In addition, all market members will get a benefit by giving counts and calculations on the blockchain.
Likewise, one of the issues of the present managing an account framework is the arrangement and capacity of individual information from outsiders. With DCC, clients ' information will be put away in their on-premises or cloud encoded capacity. Individual information can be sent to the beneficiary in scrambled shape with the goal that no one but he can see them. On the other hand, there will be a zero-learning confirmation convention, where the inspector can check the exactness of individual information without unveiling the first content of the reports. This additionally diminishes the danger of individual information spillage, as they won't be put away in a brought together capacity.
Additionally, through the presentation of blockchain and AI, associations issuing credits will have the capacity to better control the dangers. The blockchain will unveil the calculation of the leasers ' hazard methodology, and the borrowers will channel the banks as indicated by these calculations in due time, because of which the borrower will apply just to the association that will have the capacity to give him a credit as per the calculation. At last , decreased the cost of information preparing and expands the effectiveness of exchanges.
Planning of FICO assessment open to all market members. A sort of record as a consumer for borrowers. With the assistance of blockchain innovation, all records in the square will be freely accessible and not accessible for change.
The arrangement of client account recognizable proof will be executed utilizing DCCID, which will be produced utilizing a couple of open and private keys to frame the address. This ID interfaces the DCC account (credit ask for, credit, recovery data) to the individual's genuine properties (genuine name verification, Bank cards, and property).
Benefits of Distributed Credit Chain
Simple access to individual data — Users can get to this data whenever without reaching credit offices.
Enhanced security-Information put away in one place isn't shielded from programmers. A striking illustration is Equifax, which was hacked in 2017, and aggressors disclosed social protection quantities everything being equal.
Great rates on loans — integrating numerous money related associations, the stage makes a situation in light of rivalry, as opposed to agreement, which is standard in the customary monetary area. Because of this, clients will pick organizations offering positive conditions, and incorporated associations will debilitate their grasp.
Client Account Identification System
In DCC, every individual or establishment has one DCCID created through Public-Private Key Pair to frame an address. This address demonstrations simply like a part ID in a conventional Internet framework, distinguishing and partner different certifiable qualities, (for example, genuine name validation, bank cards held, number of properties possessed) and data on the credit chain—an advance demand, advance, reimbursement, and so forth . DCCID is a decentralized record framework, and its age does not rely upon any individual DCC hub. Any individual, association, or organization can create this DCCID disconnected. Just when there is data waiting be related to DCC would information be able to be put away on the DCC biological community. DCC utilizes computerized signature innovation at each progression of information trade to completely ensure the non-revocation of individual-chain or organization chain cooperation of information.
DCC will give an open source individual credit information administration system DCDMF (Distributed Credit Data Management Framework) which is bolstered by a particular distributed storage supplier, and engineers, can rapidly reconstruct clients' close to home credit detailing information utilizing DCDMF in view of their APP improvement needs. Clients having a DCCID canexchange information in a few APPs which utilize DCDMF by sending out their wallet addresses.
Computerized Asset Lending
At display, in computerized resource loaning, the absence of compelling individual credit data relationship between the universe of information resources and the customary world, brings about no gathering of chronicled credit. What's more, there additionally needs viable intends to stay away from chance previously, amid and after credit handling. DCC circulated credit announcing framework can help the blockchain-based credit loaning stage open up credit revealing connections, direct pre-credit chance control, oversee execution amid advance, and cultivate the development of the computerized resource loaning market. Envision that individuals with various advanced resources could promise their computerized resources through the advance chain and acquire standard advanced resources (ETH, BTC, and so forth.) from various people for reinvestment through credit revealing information and credit records. Such advance market would make greater liquidity for computerized resource exchange advertises and give more money related subordinates.
DApp
DCC is a decentralized open credit stage. Any stage with activity and situations can present its own Dapp applications to DCC, gave that these entries depend on Distributed Credit Chain models. In the beginning periods, to guarantee the wellbeing and dependability of the environment, the Foundation would survey Dapp discharge applications. The Cyber Sheng Foundation urges distinctive situation stages to enter the DCC biological system to give utilization situations of Internet fund through Distributed Credit Chain ecoystem.
Token Detail
The Cyber Sheng Foundation intends to issue a sum of 10,000,000,000 tokens of the scrambled computerized money DCC. a year after this issuance, the aggregate course volume will be 3,700,000,000, representing 37% of the aggregate. In the private round , renowned qualified financial specialists in the fields of credit and managing an account will be welcomed for the speculation, with the gathering pledges rate close to 17%, and the venture measure of single speculator no under 100ETH. At this stage, DCCs will be bolted, with 25% of the aggregate to be opened before the opening of trade, and another 25% to be opened at regular intervals, with everything to be opened in a half year. In ICO cycle, 500,000,000 DCCs will be issued to Non-Chinese and American financial specialists. All these will be specifically coursed. The ICO hardcap is 500,000,000 DCC tokens, DCC token will be traded by ETH. To know current pattern of ICOs, you can check ICO details.
Team behind Distributed Credit Chain
Stewie Zhu –Distributed Credit Chain Founder
Before he established DCC, he drove a main SaaS organization in China and drove the advancement of Internet credit frameworks for multi-billion trusts. Later on, this organization was effectively sold to a freely enlisted organization.
Oxford University M. s in Financial Economics
Ph.D. (Competitor) in Finance, London School of Economics
Research concentrating on back and diversion hypothesis
Stone Shi –Co-Chief Researcher at the Distributed Credit Chain
For a long time he filled in as Vice President of J. P. Morgan. With noteworthy ability in coding and specialization in python programming, Mr. Stone Shi is a specialist in quantitative research, subsidiary valuing, and quantitative model hazard examination.
Nanjing University, Computer Science/Math
Nanjing University, Electronic Science and Engineering
Dr. Daniel Lu -Boss Innovation Officer at Distributed Credit Chain
Danielle Lu is one of only a handful couple of specialists in science and budgetary building. He has solid central preparing and broad involvement in keeping money, discount and retail exchange and resource administration. He is additionally a pro in Finance, because of his involvement with Deutsche Bank and Blockchain. It directs the improvement of DCC items for monetary organizations.
Ph.D. in Mathematics, Yale University, USA
Postdoctoral Research in Financial Engineering, concentrating on the Representation Theory, University of Leipzig, Germany
Conclusion
I can't help thinking that this undertaking, sooner or later, has an exceptionally extraordinary opportunity to wind up a pioneer in the managing an account segment among organizations working with the assistance of blockchain innovations. A solid group, an unmistakable activity design, dependable accomplices and financial specialists ' trust in the undertaking ought to end up a quickening agent for the DCC.
Several challenges have been hindering businesses these days. One of those is the issue of trust in data exchange with other parties' and their corresponding agreements. The blockchain gives new capabilities with transparent, peer to peer information exchange and establishes a common ground in disputable areas. Such information exchanges are of limited coverage, fulfilled by complicated and costly middleware interfacing products and not yet open to true peer to peer transparency and trust.
SophiaTX Blockchain intended at such peer to peer data exchanges that give a complete set of tools enabling developers to create and publish applications which utilize the power of the blockchain and distributed data integrated with ERP and CRM solutions.
The Blockchain For Business
SophiaTX Blockchain is the first platform concentrating on uniting blockchain with SAP and other major ERP, CRM, and SCM systems striving to extend the opportunities of enterprise applications with the trust and safety that attains with blockchain technology.
It can be considered of as three elements: a blockchain designed and developed primarily for a business environment, a development platform with integration APIs to SAP and other enterprise applications, and a marketplace for both industrial companies and a global community of specialists, advisors, and developers to buy and sell apps.
SophiaTX Blockchain is a public blockchain system with a focus on the application by enterprises of all sizes, from large global companies to small local businesses and ultimately to end consumers. It permits for companies to associate and participate in the whole value chain, allowing SophiaTX Blockchain the best potential drive for global adoption. This option, over the alternative of a private blockchain, advances the goal of creating an absolutely holistic collaboration.
Roadmap And Resolution
The present blockchain innovation is not suitable for mainstream adoption by enterprises. Hence, the key to achieving is for blockchain technology to have particular features needed by businesses. For instance, information privacy and encryption must be strengthened, while processing speed increased. Also, document preservation, auditability, and overall compliance must be discussed.
The investigation, which Equidato Technologies AG handled during summer 2017, has contributed key information in the development of the roadmap, which includes features guaranteeing the SophiaTX Blockchain is compliant and suitable for business. Also, it is necessary to design it at this stage as a 'mission non-critical' system so that it is entirely satisfactory by enterprise danger and audit bodies.
The roadmap demonstrates the most significant features and timeline for developing a business suitable blockchain and individual applications:
SPHTX Token
The SophiaTX Blockchain is fuelled by the SophiaTX Token (SPHTX) which is utilized to cover mining and business fees, enabling access and subscription to the development platform, marketplace, and in-app purchases. It is created for trading assets or micro-assets and services, know-how, process maps and blueprints, integration, and professional consulting services to facilitate stimulated adoption and application.
Once the SophiaTX Blockchain is completely started, it will use its exclusive token SPHTX. SPHTX will have various uses on the blockchain, inside the marketplace and will also be incorporated as a utility token in many decentralized applications (Dapps):
● Transaction fee and rewards for miners verifying activities and blocks on the blockchain
● Subscription to obtain rights to the SophiaTX Blockchain
● Reward distribution for buying and selling of assets in the marketplace (App Store and Dev Store)
● Reward for the developers when an end customer installs and employs a SophiaTX Application (Dapp license)
● Transaction and information storage charge for document file server
● Licensing for private Blockchain
SophiaTX Blockchain Definition
Before describing the procedure and approach for SophiaTX Blockchain, the team has evaluated the technological abilities of other blockchains to guarantee that they can genuinely add value and differentiate a commodity that will not only be suitable for the industry but also provide better functionality and features. They have studied many blockchains, but very few are focused on business and enterprise applications.