XR Web: A Decentralized Extended Reality (XR) Platform On The Blockchain
XR Web formerly known as GofindXR is a decentralized extended reality (XR) platform and virtual world on top of the real world which is powered by the Ethereum blockchain and InterPlanetary File System (IPFS). Compared to other digital worlds based on virtual reality (VR), digital content is loaded on top of the real world in AR, utilizing a smartphone or smart glasses. It will permit users to continue being connected to the real world and other people around them, while continuously encountering virtual content.
This project has its own economy and virtual currency called the XR Token. It is utilized to register land and secure transactions on the XR Web. Several applications that includes social media, games and shopping can be developed on this new XR Land as it it the new 3D Internet. Using the XR tokens, investors and users can stake them to a specific geographical locations and receive a revenue share from ads or transactions in the applications from transaction charges and applications.
The Key Components Of XR Ecosystem
XR Browser
It is the camera-based mobile spatial browser that will allow users to see the XR web directly. This element will enable users to experience internet surfing in XR mode on the go on both iOS and Android phones. The demo versions of this are now available. Conclusively the browser will transition for smart glasses as they become regular place.
XR Web
It is the collection of the geolocations and connected assets and applications. Components of the XR Land can be rented by users by staking XR tokens. All critical transaction in the XR Land such as Land ownership is registered on the blockchain.
XR Token
This is the cryptographic currency that is utilized in Gofind's XR Land for leasing XR Land and many other transactions.
XR DNS
It is the standardized system of URLs directing to exact locations in the XR Web from a distant location than the location in reference. It can be reached by compatible XR browsers using the prefix 'xtpps://'.
XR Lens Store & SDK
Lenses are comparable to web apps in 2D internet. Lenses are built utilizing the free SDKs in Unity and Javascript.
XR Ads Engine
It is a self-serve platform for marketers to set ads on XR world and for developers and builders to make their share of revenue. This XR part allows users to view ads in virtual reality as well as XR Web. The Ad engine will be accessible to serve ads in XR Land as well as in other AR applications outside the XR Land. Advertisers will be capable to bid on ads based off of location, demographics, dates and budget. Ads of highest bidder is promoted until spend operates out followed by the next highest bid.
How XR Web Works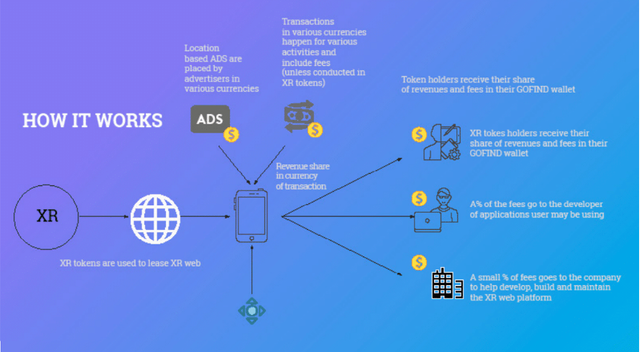 Mobile App XR Browser Screenshot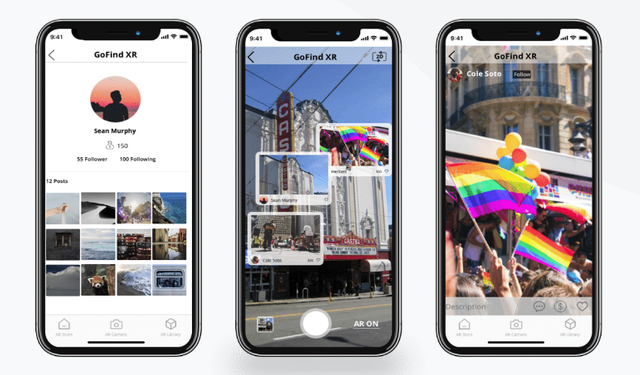 Potenial Use And Applications Using XR
For Games
The Niantic's Pokemon has previously illustrated how compelling AR gaming can be. The blast of AR Gaming is coming up. The team are making the Library store and Economy for AR Gaming advance.
For Shopping
A virtual makeover is creating tides in the beauty industry; the motor trade is becoming involved too. With Land Rover providing the keys to customers in order to 'drive' their SUVs by clicking on a banner ad; IKEA's AR solution created using Apple's AR development platform ARKit allows consumers use an app to place any of the company's 2,000 products in its catalogue to-scale, in a room in their home, via the camera on their phone; and only Gap announced 'Dressing Room.'
For Social Media
Extended reality (XR) is already hitting social media and its made so for years now. It looks like AR is taking over the most popular social networks in the globally including Facebook, Instagram, Snapchat, and this new AR technology is introduced all the time. Plus, these topmost social networks are very much inspiring people to not only apply their AR features as much as possible, but even to build their own AR experiences by supplying the tools they need to make AR camera lenses and effects.
The XR Web Team
The team is composed of skilled individuals from arrays of field. They are led by Manindra Majumdar, XR Web Founder and CEO and has worked in international business for over 7 years in 15+ countries. He earned his MBA from the Hult International Business School (San Francisco, USA) and is a known AI, AR & Blockchain expert.
Other distinguished members are Sanjay Chaudhuri as the Chief Technology Officer, Haw Leng as the Chief Growth Officer, and Bogdan Sizov positioning as the Director of Blockchain.
XR Web Official Social Media Pages
TELEGRAM
TWITTER
FACEBOOK
YOUTUBE
Next Post
CargoConX: Uberizing B2B Transport and Logistics
Related Posts